For 8 year olds and up!
DJ Dan has all the latest chart songs in Karaoke as well as a large library of classics (just in case any Mums want to have a go at embarrassing their kids rather than just taking photos of the fun!)
The Pop Star Experience of DJ Dan's Karaoke Set Up is a great fun way to enhance a Disco Party.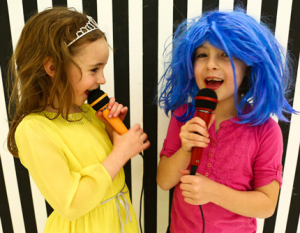 With 4 microphones available for group performances as well as a box of dressing up wigs and accessories plus prop instruments (inflatable) – everyone will want to join in!
In addition to DJ Dan's Sound System and Disco Lights the Karaoke lyrics are displayed on both a 15″ monitor as well as projected on to a screen or wall at much larger size, DJ Dan will help kids to divide into groups and pick songs and give the best performance possible.
Parties can be divided between Performance, Games and Disco at your choice and as appropriate for age group.
Current top-selling Parties
A great prize for every child!
Make the lightshow extra special with Dan's Four Multifunction LED Lights and Multicoloured Lasers overhead bar.
*Please note the rope lights around the hall in the video above are not part of the lightshow.
Everything in the Big Disco Upgrade PLUS the addition of and UV Lights which make Neon and White clothing and face paints Glow.
NEW


Karaoke
Performance Party
For 7 year olds and older. I bring my Karaoke set-up with Screen and Projector, up to 4 Simultaneous Microphones as well as Props and Dress-Up for an amazing Pop Star Experience in the second half of the party.